The Upcoming payments widget gives you a visual overview of your upcoming payments on all your accounts so that you can get a quick overview over how much is going out - and how many payments still need to be confirmed before they can be executed.
The payments are summed by their status, and you can hover the the bars in the chart to get a detailed breakdown of the payments on that day.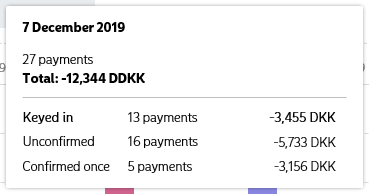 You can click the bars in the chart to drill-down into that day and see a breakdown of the payments per account.
More help for Upcoming payments